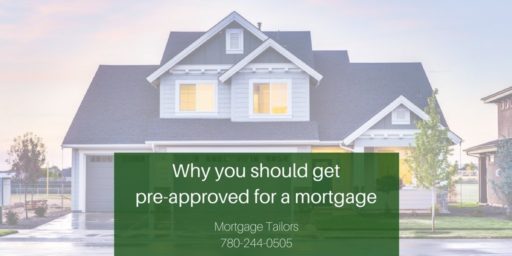 Why get pre-approved? Are you shopping the market for a new home but have no idea where to start? Well our team at Mortgage Tailors can help guide you throughout the Sherwood Park mortgage process. If you are a first time homebuyer then you may not know about the perks of getting pre-approved for a mortgage. Pre-approval can be beneficial for a few different reasons:
1) It gives you more credibility:
When looking for your dream home, you may be visiting a lot of different houses and be dealing with a variety of different sellers. If you are pre-approved for a mortgage then you have more credibility with sellers because this shows them that you are financially capable of owning a home. In addition, if you are in a bidding war with another family who is not pre-approved, the seller will be more inclined to pick your offer over theirs. This credibility can also give you more power for negotiation. This lets the sellers know you are serious, which therefore means they might be willing to negotiate on the listing price.
2) You will know your affordability:
It can be very disheartening shopping around, finding your perfect home, and then realizing it is out of your price range. Getting pre-approved lets you know exactly how much you can borrow from a lender. Knowing what price range to shop for will prevent any disappointment from reoccurring. As your Sherwood Park mortgage broker, we can go through your finances and let you know your affordability quickly, that way no more time is wasted looking at the wrong homes.
3) It can save you time:
Not only will knowing your affordability save you time on your home search, but getting pre-approved can also save you time during the mortgage process. All your paperwork and financial documentation will already be organized and ready for your home loan finalization. This can also shorten the time between closing because your broker will already know how much they can lend you, as well as your credit score and income.
Our team at Mortgage Tailors is so thrilled to be a part of your home buying experience. We understand how monumental this time is for you and we will ensure you get the best deals in the market. As your local Edmonton and Sherwood Park mortgage broker we will can help make your dreams of homeownership come true. Don't wait, call our office today at 780-244-0505 to get started!